We are a loving church where Jesus Is Lord! with a congregation of families, men and women, marrieds and unmarrieds, young and old that love God!  We have a heart to obey God according to the rightly divided preaching and teaching of His Word.  From the Heart is a church that has an impact in  the lives of its members and a longstanding presence in its local community.  This ministry has a worldwide impact and it is the first non-denominational local church of many that was established by the Founding Pastor and his wife, the late Dr. John A. (1940 – 2019) and Diana P. Cherry.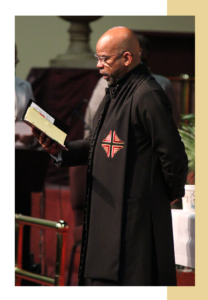 The local church and the worldwide ministry are both now under the leadership of Bishop John A. Cherry, II.  For decades, this church has been a place where the unsaved and mature Christian alike have come to receive the truth of God's Word.  Well over 55,000 people have received salvation through Jesus Christ at this one local church.  From the Heart has a motto of Excellence of Ministry® and its members have a desire to know God, seeking a relationship with Him and pressing toward the mark for the prize of the high calling of God in Christ Jesus according to Philippians 3:7-14.
This is a teaching ministry and the emphasis is on teaching "how to" series that are designed to help its membership to live successful Christian lives.  Our members are taught that we are blessed to be a blessing and members are highly encouraged to join one of the dozens of volunteer ministries.  Members are oriented to the Body of Christ and the local church and then perfected through a 10-week class.  This helps to educate Christians in their faith and ground them to their responsibility to give back to the church and the Body of Christ.
We are a large ministry, having a full-time staff of over 100 people, a Christian School that is open to church families for grades K3 to 12th grade, the None Suffer Lack Federal Credit Union that is open to church members and their immediate family members, a growing and thriving expansion location in Northwest Washington, DC, a School of Knowledge and a volunteer base of over 3,000 members. The church volunteer family is active in ministries that range from perfecting ministries that enrich the lives of church membership in every area of their lives to music ministries that minister to the church community and service ministries that assist and serve the church body.