Dr. John A. & Rev. Diana P. Cherry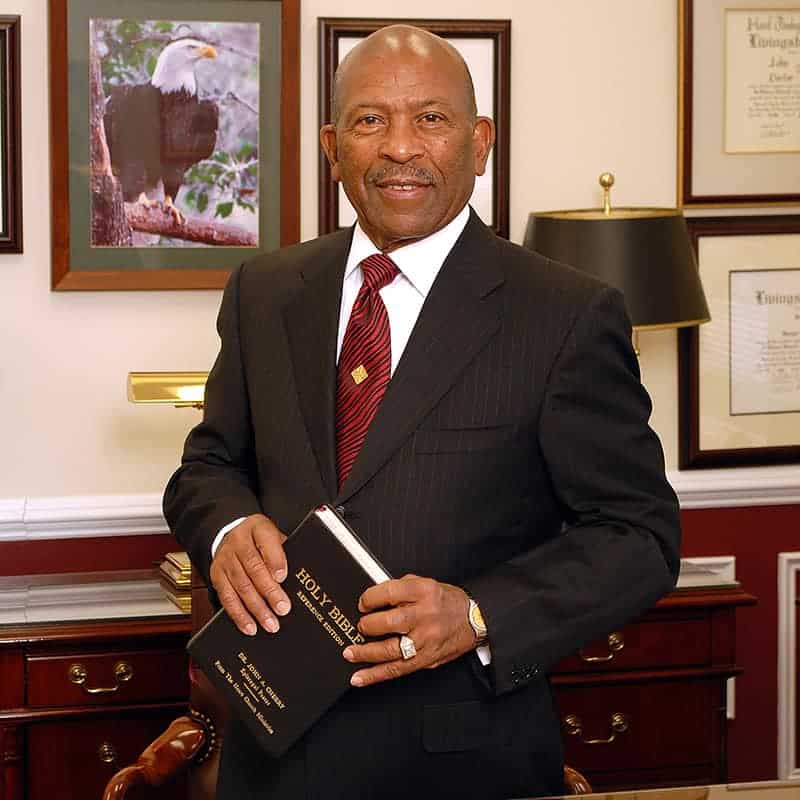 Episcopal Pastor Emeritus John A. Cherry (1940 – 2019) was a native of Alabama and was raised in a loving, Christian home. His father, the late Presiding Elder Joseph H. Cherry, served in a denominational church, where Dr. Cherry received his early childhood Christian education.
Dr. John A. Cherry is the Founder of the From the Heart Church Ministries, Inc.® in Suitland, Maryland. Dr. Cherry left the business world to enter full-time ministry in 1981, after answering the call of God to the Pastorate. His business acumen and experience under the anointing of the Holy Spirit have caused From the Heart Church Ministries® to grow from a small storefront church into a multi-million dollar, worldwide Christian Church ministry. Dr. Cherry's evangelistic outreach ministry touched lives throughout the United States and abroad.
Dr. Cherry was a spiritual leader with a vision who knew who he was in Christ Jesus and as a male seed. He was a no-nonsense, uncompromising teacher of the Word of God, whose primary focus was on developing strong male leadership and strengthening the family unit through that leadership. Dr. Cherry's teaching ministry reached all over the world, including Asia, Western and Eastern Europe and South America, touching lives and leading multiple thousands of people worldwide to a saving knowledge of our Lord, Jesus Christ.
In essence, Dr. John A. Cherry was an arrow pointing to Jesus Christ!
Reverend Diana P. Cherry is a born-again Spirit-filled woman of God who has willingly become a yielded vessel and obedient servant of the Lord.  She was ordained an Elder on May 28, 1988.  She is the widow of Dr. John A. Cherry.  Together they built the From the Heart Church Ministries® – Parent Church, which began as a small storefront in June 1981, to an expansive church and administrative complex, serving over 27,000 members.  Since the inception of the ministry in 1981, it has grown to include an audio and videotape ministry that reaches all over the world.
Reverend Cherry has two children:  Sharon Mitchell and Episcopal Pastor, Bishop John A. Cherry, II; one son-in-law, William Mitchell, III; one daughter-in-law, Reverend LaWanda M. Cherry; seven grandchildren:  Renee, William the IV, Diana, Elisha, Abriona, Aleah, and John the III; and eight great-grandchildren: Kanae, Elijah, Kevin, Isaiah, Imani, Caysen, Israel and Jiselle. 
Reverend Cherry is a dynamic preacher of the Word of God who practically applies the Word in her own life.  She also teaches in a simple, scriptural, Christ-centered manner so that those who have an "ear to hear" might be able to take God's Word from abstract to actuality in their lives.  Reverend Cherry has traveled throughout the United States and abroad as a minister of the Gospel.  She has touched the lives of thousands of women through teachings such as "God's Plan for the Woman," "How to Become God's Woman," and "Portrait of a Virtuous Woman."  These teachings were the basis for the formation of From the Heart's women's fellowship — "Women of God:  Lifegivers," founded by Reverend Cherry.